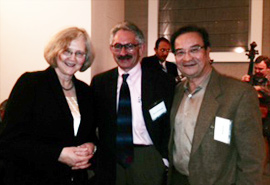 Drs. Ahvie Herskowitz and Victor Liu discussing stem cell technologies with UCSF Professor, Elizabeth Blackburn, Nobel Prize winner in 2009 in Physiology or Medicine, for her discovery of telomerase, the enzyme that makes telomere DNA. This discovery helped explain how cells age; the solution was found in the ends of the chromosomes ­the telomeres ­and in an enzyme that forms them ­ telomerase. Elizabeth Blackburn and Jack Szostak discovered that a unique DNA sequence in the telomeres protects the chromosomes from degradation.
"As a former senior faculty member at UCSF and The Johns Hopkins School of Medicine, I have witnessed great strides in chronic disease management. Yet, many gaps still exist and it is our goal to gain much needed clinical experience with autologous stem cells. The combination of clinical research coupled with basic science research will lead to a greater knowledge base for our current generation of patients needing solutions that go beyond the scope of current therapies."
Dr. Ahvie Herskowitz
Photo taken at 10th year celebration of The Eli and Edythe Broad Center of Regeneration Medicine and Stem Cell Research at UCSF.